Of course, we've all been looking at pictures of OPI's upcoming Hong Kong collection that will be released in Spring, and while I was browsing the gorgeous pictures of many a beautiful finger, a thought suddenly struck me - Jade is the New Black looked hauntingly familiar. In fact, it kind of looked like something I already had in my stash, and that was released in Winter!
Ooh. Just goes to show you that these types of emerald-jade slightly dustied jewel greens are awesome and chic year round, be it Winter, Spring, Summer or Fall. Anyway, regular readers of this blog will probably be able to guess what I was talking about, because awhile back, I posted bottle pics of potential-dupe-in-question
here
. But of course bottle pictures are inconclusive. And as it so happens, I've actually used it for a mani since then!
Behold, a potential dupe-or-not for OPI's Jade is the New Black. Maybe it's not a dupe, but it's definitely in the same family, or if not, a close neighbour. From what I could tell based on other bloggers' swatches, the main difference is that Pixie is a little more blue-toned, while the OPI is more yellow-based. I do think they are close though. I only wish I had the actual OPI colour so I could do a side-by-side comparison. But anyways, this maybe-it's-a-dupe-maybe-it's-not isn't too shabby either. It's cheaper (for the UK ladies, that is), it's beautiful and creamy, it covers in one coat (although I used two out of habit) and it's none other than Pixie, from the Asos Paints by Ciate Winter Collection!
Observe it's beauty, in natural light: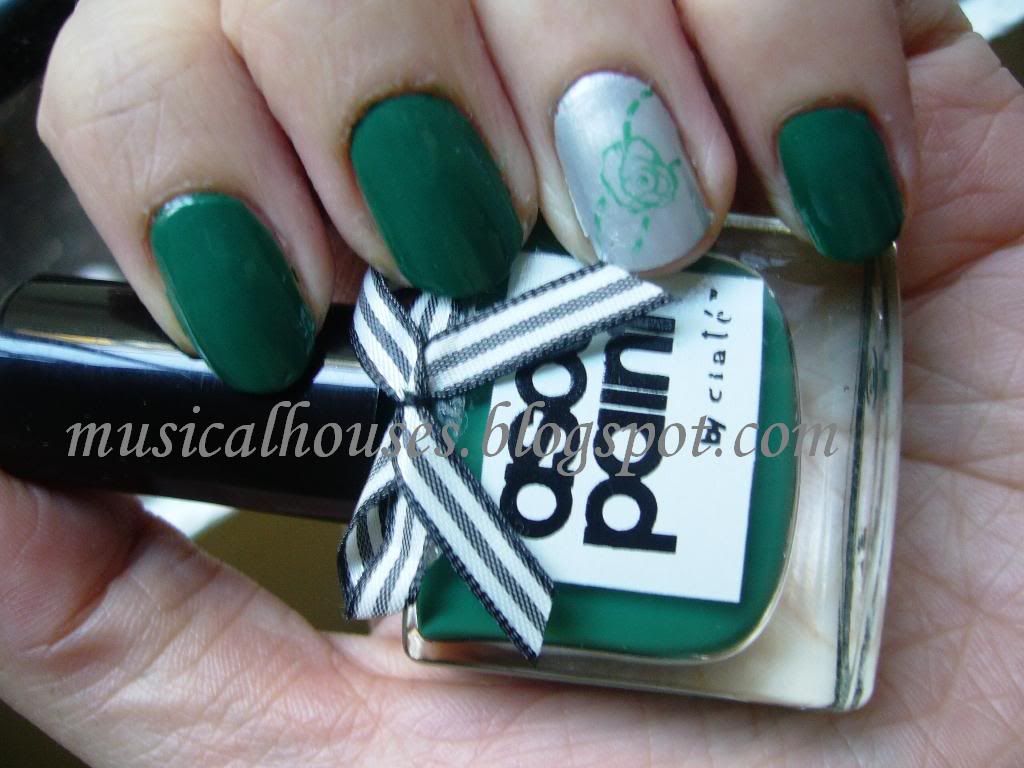 And here it is indoors:
Of course, I couldn't leave well enough alone, so I had to pair it with $OPI's Run With It, a beautiful, albeit streaky and sheer, silvery grey, and I konaded over the ring finger with Pixie, using Konad plate M57 (I think. I'm bad at remembering which plates I used).
Anyway, can I just sing the praises of Pixie again? Oh Asos and Ciate, you have done it again. Beautiful, pigmented, creamy, good texture, and very smooth creme. Unfortunately, it's let down by a brush that likes to skip and make application not as great as it could be. Which is really unfortunate, because the formulation of this was near perfect, and it was a shame that it was let down by the brush.
I also really liked Pixie, because it is something of a chameleon, colour-wise. Indoors it leans a little blue, and sometimes I swore it looked rather teal on my fingers. But outdoors, it looks most mostly green. And this isn't a wimpy mint-jade green (haven't we had enough of those already?) but it's a much sexier, much more sophisticated, much more chic older sister of those green wannabes. It's deep, but not too deep, and it's a mix of emerald and jade colours, and is bright but still a little dusty, making it eyecatching but still very wearable. And of course it likes to tease me by being bluish and teal sometimes.
So OPI, don't say I didn't warn ya, but you have competition! I only wish I could get my hands on OPI Jade is the New Black to do a side-by-side comparison!