The last time I tried Eyeko's polishes, I wasn't impressed at all. Not one bit. This was back when Eyeko was still carried at my Superdrug last year. I saw their polishes in their cute bottles that looked like little milk jugs, picked up 3 or 4, tried on Pretty Polish, and promptly gave it away. It was sheer, streaky, annoying and took 4 coats to even out. And the cute milk jug bottle? It looked really eye-catching, but didn't help polish application one bit, since the polish tended to get clogged up around the too-wide rim of the bottle, and the flat cap was hard to hold.
Enter 2010, and Eyeko seems to have reformulated their polishes. These ones that I've tried were much better, both in terms of packaging. Gone are the annoying milk jug bottles with the too-wide rim and hard-to-hold cap. These ones are thinner, and sleeker, and the rim and cap are normal to hold and use. The formula also seems to have improved - out of the three I've swatched, only one was sheer, and it was billed as a polish for French manicures, so that's to be expected. There are also some interesting and surprising dupes here.
First up, we have Petite Polish, for French Nails (don't you just love how Eyeko tells you what sort of effect their polish is supposed to give? I think it's kinda cute). This one is sheer, as billed. One coat was a barely noticeable pale milky sheer pink, two coats still left VNL (visible nail line) but was still sheer. This swatch is two coats, in natural light. Pardon the stained nails:
As you can see, this is a far cry from my past experience with their Pretty Polish. While that one was impossibly streaky, this was actually even with just two coats. Streakiness is a major downfall of many a sheer french pink, so consider me impressed, even if the colour isn't devastatingly unique.
Speaking of not being unique, there are similar colours, and a close-but-not-quite-dupe in other lines: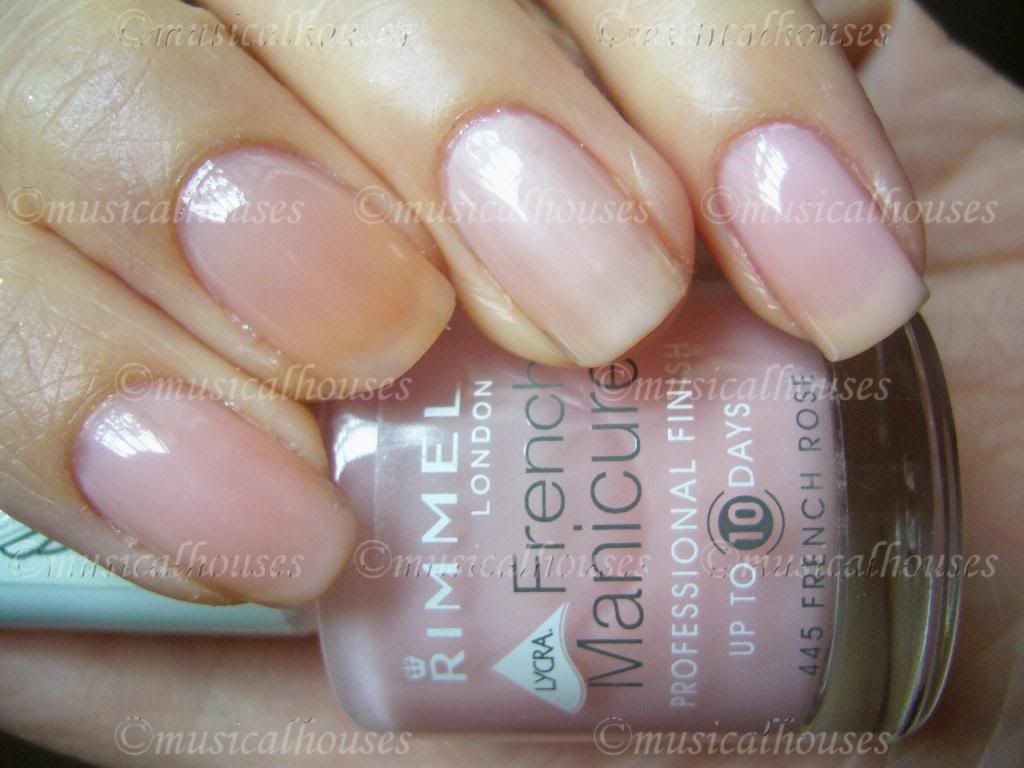 L-R: Eyeko Petite Polish, Rimmel French Rose, Nails Inc Elizabeth Street, Eyeko Petite Polish
I used two coats of each for the swatches to ensure consistency. As you can see, Nails Inc Elizabeth Street is the most opaque of the lot, reaching near-full opacity in 2 coats. Rimmel French Rose is the sheerest of the lot, showing the most VNL, while Eyeko's Petite Polish is sort of in between, but closer to the Rimmel French Rose polish.
I think these are great for French manicures, and also very work appropriate - barely anyone is going to notice you're wearing polish with these.
Next up, we have a stunner in Eyeko's Coral Polish, for Resort Nails. This one really gives a very summery, holiday feel, and was opaque in two coats: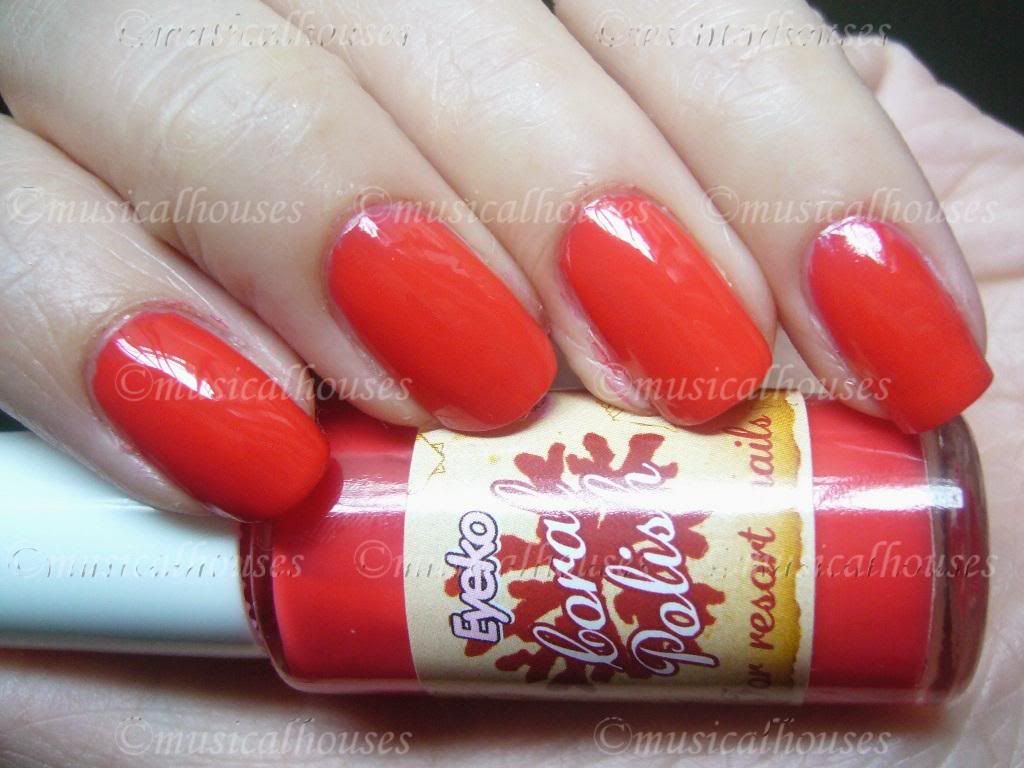 This is really very pretty isn't it? I generally stay away from most coral colours, because they usually carry too much orange for my taste, but this is on the red side of coral, and thus doesn't make me look as jaundiced as it potentially could. I also liked the application on this one, it applied well and was smooth. I really love this one, it's not neon, but it's bright, summery and happy.
Lastly, we have Eyeko Vampira Polish, for Goth Nails. Although I'm not quite sure if black automatically equals goth, considering that China Glaze's Lubu Heels is pretty much a classic in the nail polish fanatic's world, and it's a very similar colour. Vampira Polish, as is Lubu Heels, is a sheer black with red glitter, which is pretty much opaque in two coats. If you can't see the red glitter bits, feel free to click on the picture to view the humongous full size version, complete with messy cuticles (don't say I didn't warn you):
You know I love me my vampies, so you know I'll love this. Black with red glitter? I'll take it!
But how does Eyeko Vampira Polish compare to China Glaze's cult favourite, Lubu Heels? They look awfully similar, could they be dupes? Well, I know you'd be wondering, so I generously swatched them for you :P LOL! These swatches are two coats of each: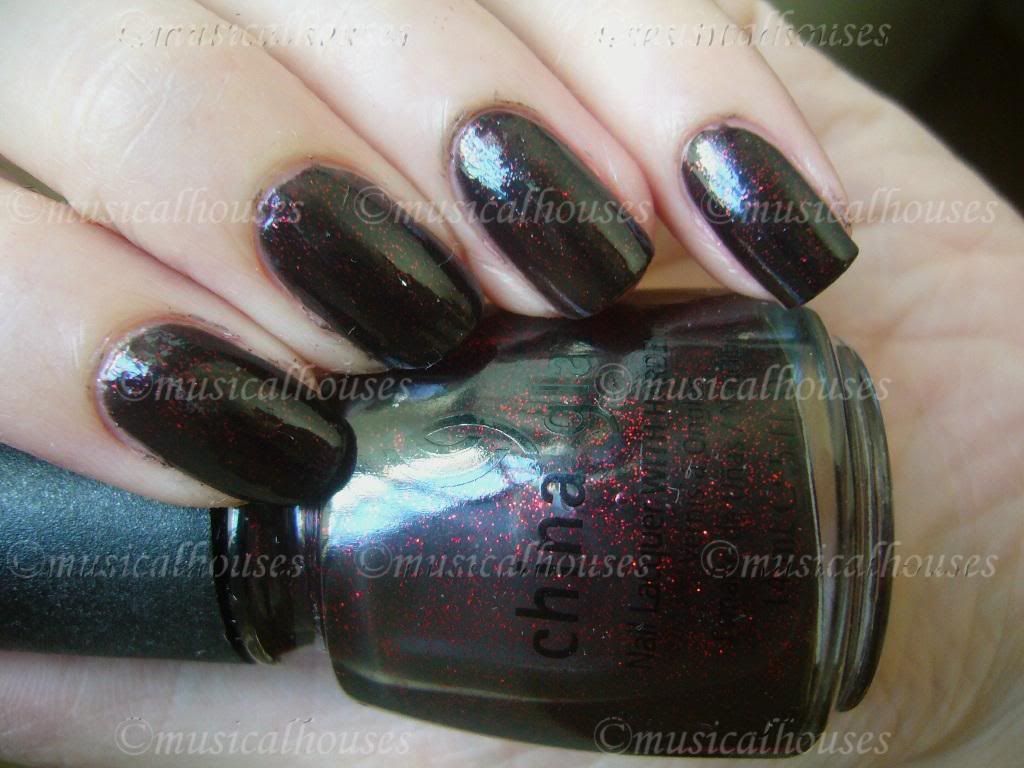 L-R: China Glaze Lubu Heels, Eyeko Vampira Polish, China Glaze Lubu Heels, Eyeko Vampira Polish
As you can see, they are pretty much dupes, colour-wise, right down to the size and density of glitter. I know the China Glaze diehard fans are going to howl at the presence of a dupe of one of their cult favourites, but to be fair, the China Glaze version was easier to apply, and didn't pull or streak as much. So they might be dupes colour-wise, the China Glaze had a better application. But for anyone in the UK who can't get their hands on China Glaze, the Eyeko is definitely a good substitute.
After my previous mishap with the older Eyeko polishes, I swore I'd never buy anything Eyeko again. These polishes have redeemed Eyeko in my eyes. None of these colours are super unique, but they are good basics with good quality, and worth a look at.
These products were provided to me for review purposes. I am not affilated with the company. This review is my complete and honest opinion.