recently hauled yet more of their stuff, as this IG photo shows
), and make up some of the brands best known products. So I had high expectations for the Teint Couture Balm.
Givenchy Teint Couture Balm SPF15: The latest lightweight foundation/BB cream-type product from Givenchy
The Teint Couture Balm is advertised as being a "
an invisible, ultralightweight, skin-fusion foundation for a flawless, bare-skin effect
, and it's a lighter foundation/base product addition to Givenchy's range. I'm pretty late to the party - these were launched a couple of months ago, but I'm only reviewing them now, but on the bright side, a thorough review is always good, right? And I'm glad to say, the Teint Couture Balm performs very nicely!
Givenchy Teint Couture Balm SPF15: Also known as Teint Couture Blurring Foundation Balm in some countries
And by thorough, I do mean thorough - I've got swatches, ingredients analysis, and a photo of the Teint Couture Balm on my face! Of course, we'll start with my favourite part - the ingredients analysis of the product.
Givenchy Teint Couture Balm Ingredients
The main ingredients are water, silicones (Cyclopentasiloxane, PEG-9 Polydimethylsiloxyethyl Dimethicone, Phenyl Trimethicone, Polymethylsilsesquioxane, Acrylates/Dimethicone Copolymer), humectants (Butylene Glycol, Saccharide Isomerate), sunscreen filters (Ethylhexyl Methoxycinnamate), and Alcohol. After this we hit the main preservative, Phenoxyethanol, which is typically used in concentrations of under 1%, so anything after that is going to be in pretty tiny amounts (which, in addition to the usual functional ingredients like pH adjusters and polymers, and in addition to some plant extracts, also includes a number of interesting ingredients, like Diamond Powder).
From the formula, we can see that the Teint Couture Balm has some moisturizing properties, with both humectants, as well as ingredients with emollient properties, such as some of the silicones, and Saccharide Isomerate. The product also has been formulated to form a nice smooth layer on skin, with a variety of silicones, polymers, and film formers. The inclusion of Cyclopentasiloxane also adds to the lightweight feel - Cyclopentasiloxane is a very volatile silicone that evaporates upon application, so when the product is applied to the skin, it helps to disperse the other ingredients on the skin, before evaporating quickly. This helps the product to have a quicker "dry down" time and feel lighter. There is also Alcohol, which can be a dealbreaker for those with dry skin or sensitive skin, but since it's further down the ingredients list, my guess is that it is probably there in fairly low amounts, and most people probably wouldn't be affected by the amount of alcohol in the product.
Givenchy Teint Couture Balm: Main ingredients include silicones, humectants, and sunscreen filters
In particular, I'd like to mention the use of Saccharide Isomerate, which is a fairly unique ingredient that I haven't seen used too often in skincare or makeup products. At its core, it's a humectant and an emollient, which sounds pretty commonplace since there are multiple ingredients with such properties. But what makes Saccharide Isomerate interesting is that it "
it binds to the ε-amino group of lysine in the keratin of corneocytes
", which means that it "
is not washed away but continues to improve hydration until removed by the natural process of desquamation
". That's pretty cool - the implication is that the ingredient binds to skin, even after the product is washed away, and continues to help moisturize skin, until your skin has been sloughed off as a result of the skin's natural turnover process (this is roughly 72 hours according to the manufacturer of the ingredient). Cool, right? It's also marketed as
Pentavitin, and is recommended for use in skin and hair products at a level from 1 - 5%
, which ties in nicely with the rest of our ingredients analysis, since it appears just a little above Phenoxyethanol. So, it's great that Givenchy included something unique and beneficial for skin in the Teint Couture Balm.
Givenchy Teint Couture Balm: Also includes Saccharide Isomerate, which helps to moisturize skin even after makeup is washed off
One last note I'd like to mention is the amount of sun protection in the Teint Couture Balm. The Teint Couture Balm advertises itself as having SPF15, and the only sunscreen filter in the product is Ethylhexyl Methoxycinnamate. Ethylhexyl Methoxycinnamate protects only against UVB rays, and not UVA rays, so although it has UVB protection (as refected in the SPF15 number), it doesn't have broad spectrum protection. Also, Ethylhexyl Methoxycinnamate is unstable and degrades over time with exposure to sunlight, so the sun protection afforded by the Teint Couture Balm also will decrease over time. I guess any sun protection, no matter how unstable and how minimal, is still better than none, but if you are planning to wear this for an extended period of time under the sun, it might be a good idea to layer another sunscreen under this. But if you're planning to wear this for a quick dash, then this is sufficient.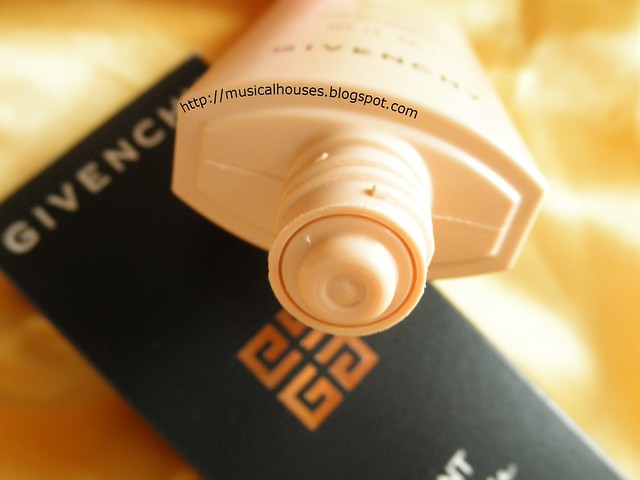 Givenchy Teint Couture Balm: With only Ethylhexyl Methoxycinnamate as the sunscreen filter, the sun protection offered by the Balm is unstable
Now that we've looked at the formula of Givenchy's Teint Couture Balm, let's go on to the actual swatches, and see what it looks like on skin! In Singapore we're only getting 6 of the shades (other markets have a few darker shades), and I've swatched them below. As you can see, the shade range is generally quite light, but there are a couple of medium and deep shades too. On a side note, I really like how the tube colour matches the colour of the product inside.
The coverage on these products is surprisingly good - despite these being "Balms" they actually give a good medium coverage for minor imperfections and blemishes. Of course, if you want greater coverage you can either tap on more of the Balm on the spot where coverage is needed, or you can use a separate concealer.
Givenchy Teint Couture Balm Swatches
1 Nude Porcelain
is a light yellow-based beige. This is probably NC15 or NC20 in equivalent MAC shade.
2 Nude Shell
is a light pink-based beige. This is probably NW15 or NW20.
3 Nude Sand
is a light peach-based beige. In terms of shade depth/darkness, Nude Porcelain, Nude Shell, and Nude Sand are all equally light, but they just have different colour bases. Nude Porcelain is the "yellow" shade, Nude Shell is the "pink" shade, and Nude Sand is the "Peach" shade. So you can pick the best shade for you based on your undertones!
4 Nude Beige
is a neutral-warm medium beige.
5 Nude Honey
is a neutral-warm medium tan shade.
6 Nude Gold
is a neutral warm deep tan shade. In terms of undertones, Nude Beige, Nude Honey and Nude Gold all have the same undertones (warm-neutral, which would probably match a good range of skintones), but they get progressively deeper in shade depth.
I personally thought that 1 Nude Porcelain was the best match for my NC20 skintone, but that shade was not available so I went home with 3 Nude Sand instead. As I guessed, Nude Sand turned out to be a shade too orange for me due to the peach base of the product, which was a bit of a bummer because the product was pretty great in every other way. I'm not sure if you can see it in the photo below, but my face is a bit different in colour from my neck (it's a bit redder because of the peach base). It's not a huge difference, but enough to bother me personally - I guess being a beauty blogger for 5+ years has sharpened my eye to such colour discrepancies!
Wearing Givenchy Teint Couture Balm in 3 Nude Sand
Below is the complete list of makeup I wore:
Skin:
Hada Labo ES Sensitive Skin Lotion (
reviewed here
)
Givenchy Teint Couture Balm in Nude Sand
MUFE Second Skin Cream Blush in 225 Peachy Pink (
swatched here
,
reviewed here
)
Eyes:
Benefit Creaseless Cream Eyeshadow in Skinny Jeans
Urban Decay 24/7 Eyeliner in Rockstar
Clio Finger Cara Mascara (
reviewed here
)
Lips:
YSL Kiss and Blush in Fuschia Desinvolte
As expected, the formula is lightweight, and very nice - it glides on the skin, it's smooth, it has a nice finish that's not too matte or too shiny. The coverage was also great - I smoothed this all over my face with my fingers, then dabbed a little more where needed for extra coverage. I have to say, the Teint Couture Balm really looks very natural on the skin, colour mismatch aside. It looks natural, and not too flat, while covering well. I guess in terms of feel, this is halfway in between a foundation and a BB cream.
I wore this out without any setting powder for a day with fairly sedentary, and it did fine - there was some wear at the end of the day, and some extra shininess, but it didn't totally slide off or anything like that. So plus points for staying power.
Givenchy Teint Couture Balm: Sun protection aside, this is a great all around product with cosmetic and skincare benefits
So, would I recommend this? Yes, if you're looking for a lightweight foundation/BB cream-type product that's natural-looking, has good coverage, and has good lasting power, this is worth checking out! While the SPF protection is a tad unreliable because it degrades over time, I personally liked the inclusion of Saccharide Isomerate to help moisturize skin over the long run. At S$74 a tube, it's pretty pricey, but if you don't have a budget, this is definitely worth a try.
Recommended?
Pigmentation
Texture
Application
Colour
Lasting Power
Yes, good moisturizing makeup base
8/10
10/10
10/10
8/10
8/10
The Bottom Line: Despite sun protection that's unstable, Givenchy's Teint Couture Balm has good coverage, a natural-looking finish, and lasting power, and has moisturizing ingredients to boot.
(Product was sent for review. Review is my complete and honest opinion. I am not affiliated with/compensated by the company.)

Givenchy Teint Couture Balm (aka Givenchy Teint Couture Blurring Foundation Balm) SPF15 is the latest base product for skin to come from Givenchy. Givenchy has some really gorgeous face makeup - their Prisme Libre loose powders, as well as their little squares of pressed finishing/brightening powders are some of my favourites (and I