Before you think, "No way, a Brush Egg dupe for just $2? Surely they can't be that dupe-y!", let me show you a photo of the original Brush Egg (in the photo below along with some makeup brushes and other purple coloured props). They really are identical!
Definitely looks like the actual Brush Egg
(
Source
)
Believe me yet? Anyway this humble Brush Egg dupe is actually an Egg Laundry Board that Daiso sells. Basically it's a small, handheld laundry board that you can use to remove a spot from an article of clothing, without having to throw it into the wash. So say if you get a food stain onto your blouse, you could, instead of putting the blouse into the washing machine, just use the Egg Laundry Board and some detergent, and manually wash out the stain in your sink. Pretty nifty, huh?
The Brush Egg Dupe/Egg Laundry Board now does double duty as a mini-laundry board and a brush cleaning tool
For those who are just looking for a dupe of the Brush Egg - now you know the dupe, and now you know where to get it! For those interested to know how I use this brush and what I think the best way to use it is, I thought I'd do a more in-depth review and a quick demo to show you how this little Brush Egg dupe works!
First, let's take a closer look at the Brush Egg Dupe/Daiso Egg Laundry Board. It's pretty small, and fits into the palm of your hand, as you can see from the photos on the packaging. It basically consists of little nubs, and lined ridges. The text on the packaging of my Egg Laundry Board say that the nubs are to scrub out the stains, while the lines are to float surface stains. I guess you could apply this to washing brushes, too? Anyway, here's a closer look at the little nubs and lines.
Close up of the ridges and bumps of the Brush Egg Dupe/Daiso Egg Laundry Board
You may also notice that the Brush Egg Dupe/Daiso Egg Laundry Board has a little hole at the base, just big enough for you to stick maybe 2 fingers into. This is for you to hold the board if you want.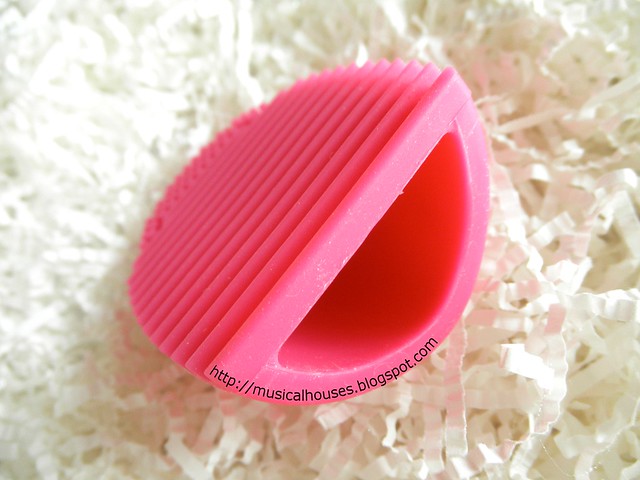 Nifty finger-holding hole in the Brush Egg Dupe/Daiso Egg Laundry Board
Like this, as demonstrated on an actual Brush Egg. This allows you to avoid getting your fingers prune-y when you are washing your brushes for an extended period of time!
How you hold your Brush Egg during cleaning
(
Source
)
Anyway, I thought I'd demonstrate the Brush Egg Dupe/Daiso Laundry Board in action. Here it is in use over my sink, in my bathroom, so apologies for the crappy lighting (indoors light is the worst, I swear). The brush I am washing is The Body Shop Blusher Brush, which
you can see more clearly in this post
.
Brush Egg Dupe/Daiso Laundry Board in action washing a brush
Basically, I use the Brush Egg Dupe/Daiso Egg Laundry Board as a sort of little washboard for the brush, just like how I use my
Sigma Spa Brush Cleaning Glove sort-of-dupe/Daiso Silicone Mats
. I just wet the brush bristles (don't wet the ferrule, though, or the brush will be spoiled in the long run), add a little bit of brush cleaner, and then run the brush back and forth along the ridges and nubs, lathering up the cleaner. After awhile, I will rinse the brush out, and if I think the brush could get cleaner, I repeat the process until the brush comes out clean during the final rinsing.
And that's basically it! Easily cleaned brushes!
After washing: Clean Brush Egg Dupe/Daiso Egg Laundry Board and Blush Brush
Now, for some pros and cons on the product. The pro is that it does help to remove the dirt and makeup and other gunk from the brushes quicker than just massaging the bristles manually, and the silicone material is extremely easy to keep clean and dry after use, and store. After I wash my brushes, I just rinse out whatever residual gunk is on the Egg Laundry Board, and then leave it out to air dry, and store it once it's dry. So it's quite a no-fuss tool in that way.
The Brush Egg Dupe/Daiso Egg Laundry Board is pretty easy to use, clean, and store
The con is that the Brush Egg Dupe is a pretty small size (it does fit in your palm, after all), so for larger brushes, it can be a bit of a hassle moving the brushes back and forth over such a small space. So for my face brushes and other larger brushes, I generally prefer using my
silicone mats instead
, but for my smaller brushes, this seems like a better way to get them clean. Also, the "hole" in the Brush Egg Dupe that you put your fingers into does collect water as you use it, so while it's not a big problem, you'll just get water seeping in onto your fingers if you use it for a prolonged period of time. Both cons are no biggie though - the Egg Laundry Board still works just fine.
A cheap, useful dupe to the Brush Egg, the Daiso Egg Laundry Board works just as well
So, all things considered, would I recommend this? I think I would! It's $2, it's easily available at Daiso (if you can find it), and it helps to get your brushes clean in a no-fuss way! I can't think of a more cost-effective, value-for-money tool you can get. It's certainly cheaper than the original Brush Egg, and certainly much cheaper than other upmarket brush washing boards like the Sigma Spa Glove.
The Bottom Line: The Brush Egg Dupe/Daiso Egg Laundry Board is a nifty, cheap mini silicone laundry board, that will help to get your brushes clean faster. I recommend it because it's effective, and value-for-money.

You might have heard of the Brush Egg, which is "a texturized, high-grade silicone finger glove" to "help with the deep cleaning process of makeup brushes" (quotes taken from US and Canada Brush Egg site). It's been getting some traction, particularly on Instagram. It's US$8 on their website, which I guess makes it fairly affordable. But, I've managed to find an even cheaper dupe - this little baby was found at Daiso for just SGD$2!